Home >> Roofing Services >> Roof Repairs Kildare >> Leaking Roofs Kildare
Roof Leak Repair Services in the County Kildare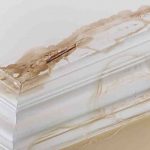 Have you recently noticed new water stains on the ceiling of your home? Or damp spots appearing on the ceiling? These light brown spots or patches are the first sign that you could have a roof leak at your home in Kildare. If you see possible signs of dampness or water damage, contact the experts at TC Roofers in Kildare. We will come assess your roof and let you know the best option for repair.
At TC Roofers in Kildare, we understand the need for roof leak repair in Kildare is urgent. Left without repair, a roof leak can cause extensive structural damage to your home. Avoid those costly repairs by contacting TC Roofers in Kildare at the first sign of a leak or dampness.
We understand the inconvenience of a roof leak. Not only can a roof leak cause damage in your home, but even having Kildare roof repairs work done can throw a wrench in your everyday schedule. Our team of roofers will work quickly and efficiently to fix your roof leak, allowing you to have your home back to normal as soon as possible.
If you're in need of roof leak repair in Kildare, we can help! Contact TC Roofers today for the best roofers in the County Kildare Area.

What Causes Roofs to Leak?
Despite what some roofers may try to tell you, a roof leak doesn't always mean that your entire roof needs to be replaced. Usually, a certain spot on your roof will simply need a patch, or a portion of shingles may need to be replaced. A roof leak can be caused by a number of issues, including:
Strong, gusting wind
Heavy rain, snow, or ice
Direct sun that is hitting one spot constantly
Guttering system that is not kept clean
Unfortunately, a badly installed roof can also lead to a roof leak. So, if you ever need roof replacement services in Kildare, be sure to hire a registered, trustworthy company. Luckily, a poorly installed roof may not need to be completely redone. For an honest assessment regarding your roof leak repair needs, contact TC Roofers today in County Kildare.
Roof Leaks are Common
Your roof has a life expectancy of about 25-30 years-much longer if you have a slate roof. However, flashing and sub-roofing can sustain damage from gusting wind, heavy rain, snow and ice. Hot sunny days can also degrade your roof and cause tiles to separate. Damage to your flashing and sub-roofing can also come from gutters which are too full of debris, and clog, causing water damage at your gutter line, eventually seeping into other areas, as well as inside your home.
Waiting too long for roof leak repair in Kildare can lead to damage inside your home, as well as to your roof. Left unresolved, a roof leak can cause water to seep into your attic, rotting your wood and insulation, or seep into your walls and destroy your plaster, as well as studs. It's crucial that you contact TC Roofers in Kildare immediately and schedule roof leak repairs in Kildare.
Risks Associated with Roof Leaks
If you notice signs of a roof leak in your home, don't wait to call the professionals. A roof leak could damage much more than your ceiling and roof. As water makes its way into your home, it can cause mold and mildew growth. If water leaks into your attic, your wood and insulation can begin to rot, causing even more damage. Water that seeps into walls can destroy plaster, leading to a very expensive repair job.
Before your roof leak gets out of control, contact TC Roofers in Kildare, the best in roof leak repair in Kildare!
Don't Delay Roof Leak Repair
A roof leak could also be a sign of some bigger problems. Certain insects and animals can easily find a way to get into your home and may have caused some damage resulting in a leaking roof. If you have large trees around your home, not only will your gutters fill up faster with debris, but the potential for branches to impale your roof in a fierce storm is greater.
Roof leak repairs in Kildare should only be tackled by a professional roofer. Climbing onto your roof is a dangerous endeavor and you may end up causing more damage than before. TC Roofers in Kildare is the area's premier roofing contractor, experienced in all types of home exterior and roof leak repair in Kildare.
Schedule Roof Leak Inspection
A leaking roof is a pretty common problem for homeowners in Kildare, and doesn't necessarily point to the need for a complete roof replacement. At TC Roofers,we can repair your roof leak, check to see there are no other signs of damage and provide peace of mind for you and your family. For roof leak repair in County Kildare, contact TC Roofers in Kildare at the first sign of a leak.