Home >> Gutter Repairs Kildare – Affordable Guttering Contractors >> Soffit and Fascia Repairs Kildare
Experts at repairing all types of soffit and fascia. New soffit and fascia installations, loose or damaged soffits, damaged fascia.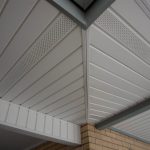 Get a free quote today from the professionals at TC Roofers in Kildare on carrying out soffit or fascia repairs for Co. Kildare. Same day call out and free inspections. Storm damaged soffits or fascia can be dangerous. If they have fallen off they can expose the backboards which can quickly become loose or damaged.
When you call our expert team, we will assess your soffit and fascia, giving you a quote to either repair the soffits and fascia in Kildare or replace them. If the damage has been extensive, we can replace the underlying pinning boards and brackets to ensure your soffits and fascia will be properly attached again to your home.
We provide package deals on installing soffit and fascia systems that will beat any other soffit and fascia repair company in Kildare!
All the work installed by us is covered by our 10 year written guarantee. As a skilled soffit contractor and fascia contractor for Co. Kildare, we only carry out quality fascia repairs and soffit installation.
All work is done under strict industry standards to ensure a quality soffit, fascia installation service. We can make your fascia and soffits stand out or blend in with your existing house depending on the style you want.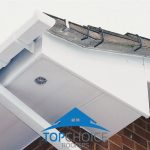 Our team has carried out hundreds of soffits and fascia repairs throughout Co. Kildare providing value each and every time. Make sure to carry out a yearly maintenance check on your guttering as loose guttering can start to pull on the fascia boards and cause them to become loose.
Make sure to inspect the fascia and soffits to ensure that the brackets and clasps are firmly attached. If in doubt, give TC Roofers a call. We can provide you with a maintenance check to ensure your gutters, soffits and fascias are firmly fixed in place.
KILDARE SOFFITS, FASCIAS, CLADDING
Experts at carrying out soffit repairs in Kildare. Large and small fascia repairs.
Unbeatable workmanship and value. Call the professionals today at TC Roofers in Kildare for a FREE NO OBLIGATION VISIT.
SOFFITS
We can replace or repair all types of soffits and backboards to ensure a matching finish to your guttering system. Range of styles and colours to choose from.
CLADDING
Cladding experts for Kildare, replacing and installing PVC cladding on your exterior house. Cladding can be installed on your porch, conservatory or you can use cladding to blend in with your drainage system.
APPROVED SOFFITS AND FASCIAS
We use only industry approved materials to repair or install new soffit and fascia systems in Kildare. Our team is equipped with modern tools and certified to carry out a quality soffits and fascias repair service in Kildare.
If you would like a free assessment of your guttering, require a new soffit installation, replacing your old fascia or would like them reattached, call our team today in Co. Kildare.
AFFORDABLE SOFFIT AND FASCIA REPAIR SERVICES IN KILDARE