Top Choice in Kildare: Roofing Contractors and Guttering Contractors Kildare

Reliable and Local Roofers For County Kildare
Experienced roofers in Kildare. At Top Choice Roofers we carry out all types of roof repairs Kildare. We provide quality affordable workmanship. We have built our Kildare roofing business around our reputation as a reliable, professional roofing contractor in Kildare.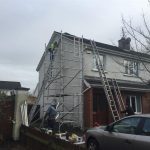 Our services range from new roofs to repairing roofs, to all types of Kildare guttering repairs. During our free quotation, we will assess your roof in a professional manner, giving you a breakdown of the costs involved and what the estimated time frame will be.
Reliable, affordable roofers for Co. Kildare. Emergency call out service 7 days a week. With a large skilled team, capable of tackling all types of Roofing in Kildare. Call Sean direct on his mobile at: 087 9335806
We take every job serious, regardless how small or large it is. All the work is undertaken by our own highly trained team and we do not employ any 3rd party contractors. This helps to ensure the high standard we have built as tradesmen is guaranteed on every single job. We service all of Co. Kildare.
Over 20 years experience as reliable, registered Kildare roofing contractors.

Click to see the range of Kildare roofing services that are carried out to the highest of standards that we become known for throughout Co. Kildare. Multiple references and testimonials from hundreds of satisfied customers in Co. Kildare.
Customer Satisfaction Guaranteed!
Roofing Contractors
We specialise in carrying out fast and efficient roof repairs in Kildare. We can offer you a streamlined repair service in Kildare that is constantly improving and evolving over time with a 10 Year Guarantee.
Guttering Contractors
Experts at repairing and installing Kildare guttering. New builds or replacement gutters, soffits and fascia. Multiple options on colours and styles. 10 Year guarantee on our installations.
External Repairs
We provide a range of structural repairs to any home in Kildare that includes chimney repairs, lead flashing repairs, loose or cracked roof tiles, damaged apex, roofing underlay repairs and more.
As skilled Roofers in Kildare, our work is guaranteed by the highest quality roofing service, with dedicated meticulous attention to roofs and gutters at costs you can afford.
Top Choice in Kildare work closely with our customers to ensure 100% customer satisfaction, and can tailor our methods and roofing services to suit your individual requirements. We are absolutely committed to helping you achieve your goals and solve your roofing problems.
Top Choice in Kildare are registered to carry out all types of Kildare roofing and guttering services with the experience to deal with them in a fast, professional manner. Call the Top Choice in Kildare today to get an affordable roofing and guttering service. Fast response time.