---
ROOF CLEANING AND PAINTING KILDARE
EXPERT ROOF CLEANING, ROOF MOSS REMOVAL, POWER WASHING
Kildare roof cleaning company. We know and understand how important it is to keep a clean roof, allowing your roof to drain rain water safely away and down through your guttering system. We can carry out a conditioning check on your roof and replace any damaged tiles at the same time if required. Power washing roofs, soft washing, algae removal, gutter cleaning, roof painting and moss removal.
ROOF WASHING AND ROOF PAINTING IN KILDARE
If your roof is starting to get overgrown by algae or moss, it needs to be thoroughly cleaned down. If you do not clean your roof, the moss will continue to slide and block up your entire guttering system. It can lead to long term damage to roofing underlays because of the damp.
For a small fee, you can get TC Roofers in Kildare team to perform a roof cleaning service in Kildare on your roof that will remove all the grime, algae and moss. We can wash down your roof, restore faded roof tiles by applying a paint to your tiles with multiple choices on colour.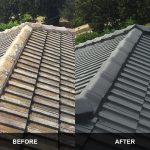 Depending on the type of roof, we will either use a soft washing method which is using soft brushes and slow water flow or a hard wash which will be done with our power washing system.
For standard roofs, we recommend power washing. Depending on the severity of the moss / algae, we will use a bio detergent to kill off the growth before we start power washing.
Of course, once the roof is clean, we will blow through your entire guttering system and down pipes, making sure that the storm water is draining fast and efficiently away from your roof.
Our Roof Washing, Roof Painting and Cleaning Services Include:
Roof Painting Kildare
Power Washing Roofs
Soft Washing Roofs
Restoring Colour To Roof Tiles
Tile Painting
Roof Algae and Moss Removal
Working on a roof requires a skilled and competent roofing contractor, that's why it's important that you hire the right team to perform a roofing maintenance service with the proper qualifications and insurance.
ROOF CLEANING KILDARE, POWER WASHING, ROOF SEALING, MOSS REMOVAL AND MORE
Our team is trained to deal with every roof professionally and safely. We do not employ any 3rd party contractors at any stage as we can not trust them to carry out the work to the standards that we adhere to. We are safe pass certified, registered and insured to carry out roof repairs at your home in Kildare.
AFFORDABLE ROOF CLEANING AND ROOF PAINTING SERVICES FOR KILDARE
If you are looking for a free estimate on cleaning your roof in Kildare, give our team a call today. Our team is trained to operate professionally at all times, we offer a range of roof cleaning options include soft washing and hard washing. Options on painting your roof in Kildare is available with multiple colours. Who better to clean up your roof in the right way than an expert at repairs, Call TC Roofers Kildare today to book a free quote.